Soennecken pens, no longer in production today, was founded by Freidrich Soennecken in 1875. While they sold a vast array of office products, they are most famous for the pen (his main invention is the "round writing" style of calligraphy and the pen nib associated with it), ring binder, and the two-hole punch. He was the first German company to sell fountain pens (they are in his 1890 products catalog).
As a result of the wide range of pens produced by Soennecken throughout the years of production, in addition to their consistent high-quality, Soennecken vintage pens are highly sought-after by collectors.
The first Soenneckens were Safety pens, followed by lever-fillers in 1927, then the button filler with the protective sleeve (their top-of-the "Rheingold" model), and finally, the piston-fillers. WWII had a devastating effect on the then very successful company, but by 1945 they were back in limited production. In the 1950's they made wonderful pens but priced too high for the market and they failed. By the 1960's, Soennecken was producing only economy pens. They merged with the French company Bayard to produce new pens but those too failed and Soennecken closed its doors in 1967.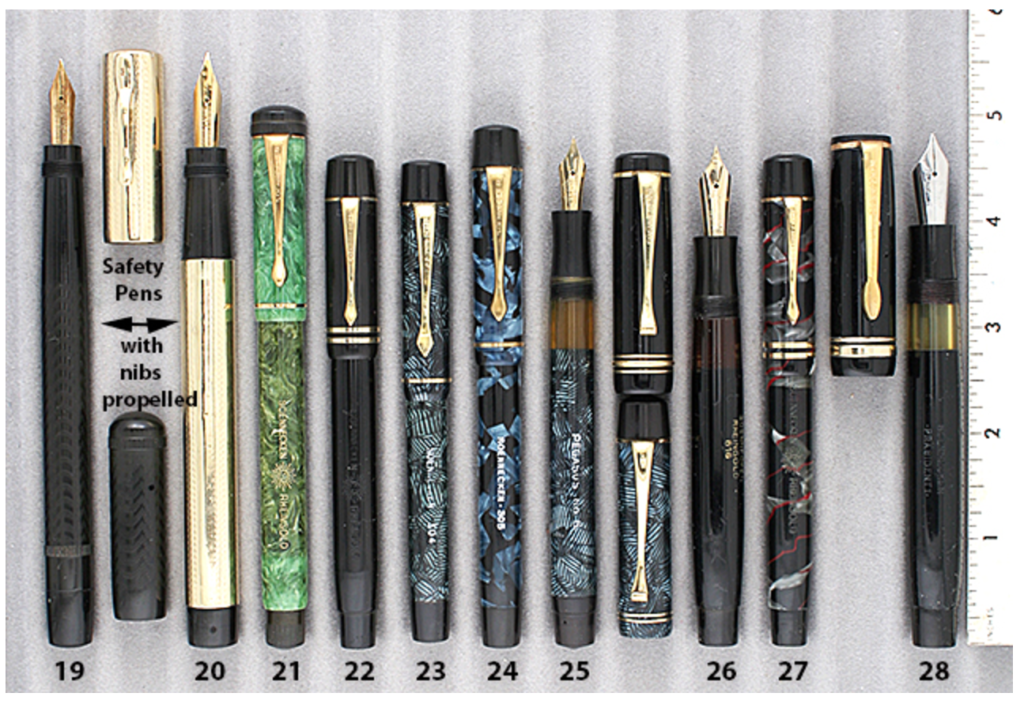 The 1913 vintage Soennecken Model 11820 Safety eyedropper-fill is a 14K Solid Gold Overlay on black hard rubber. It has an alternating wave-chased and plain paneled finish. The model number on the pen is covered by the overlay. I do believe this is the "20″ size, the largest size manufactured.
Features an extra-fine/fine nib. Minor dents and dings to the cap and barrel, and has been filled (perhaps 100 years ago?), otherwise near mint. Shown open with nib propelled.