The Parker Vacumatic are some of the most beautiful vintage pens because of their wonderful laminated and striated caps and barrels. They were launched in 1932 and were so popular they soon outsold their predecessor, the Duofold. The name changed twice: from "Golden Arrow" to "Vacuum-Filler" and finally to "Vacumatic." The pen (not surprisingly) features a vacuum-filling system that took five years to be perfected, at no small cost of $125,000 (in 1930′ dollars!).  The filling mechanism was so popular that in one way or another it was soon imitated by other major pen manufacturers (i.e., the Wahl "bulb-fill"; the Waterman "Ink-Vue").
There were quite a few colors, finishes and models produced with the always attractive pearlescent bands alternating with clear celluloid. The models we see most often are the laminated black, brown, grey and green.  Blue and Red rarer (Red rarer than Blue).
Pen #181 is a 1946 Parker Vacumatic Jr. in Golden Laminated – a rich and beautiful finish! This pen has a medium/fine nib and is in near mint condition with excellent barrel transparency. This pen is available for only US$110! A beautiful gift for yourself or someone you know who may love it (or someone you may want to fall in love with fountain pens).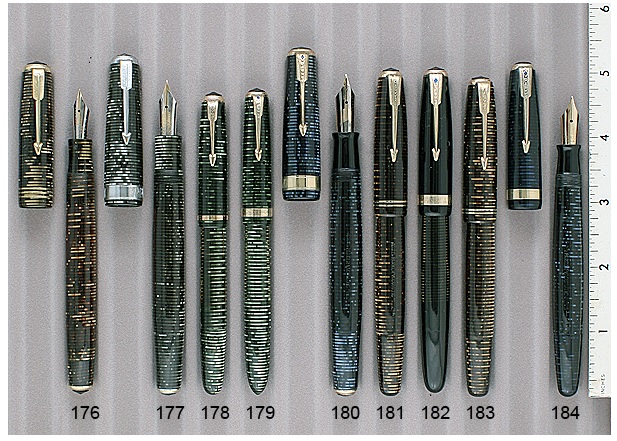 Sadly, the Vacumatics were phased out in 1948 because the Parker 51 had taken over! Our neighbors to the North (Canada, that is!) continued to produce them until 1953.
Do you have a preferred color and/or model? How about the nibs?