Not all vintage pens were made to be carried in a pocket or purse.  Desk pens are long, tapered pens normally held in a base, nib down, and of course are designed to sit on a desk. Many companies made desk sets and designs range from the very simple to extremely ornate. The base is heavy to keep the desk set in place. Below are some Conklin, Waterman, and Parker desk sets.  Other manufacturers include Esterbrook, Sheaffer, Montblanc, Pelikan, Leboeuf, Wahl Eversharp, Chilton, Namiki, and others.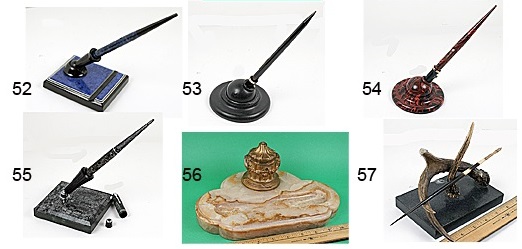 This 1927 Waterman "Hemisphere" desk set (#53) has a black hard rubber lever-fill pen.  The desk base is one of Waterman's most iconic, which is really a huge hunk of black hard rubber! What a pair! The fountain pen even has a built in pencil on the other end. The pen has a medium/fine nib and is in near mint condition. It's available and would make a wonderful gift to someone moving into their first home or first office!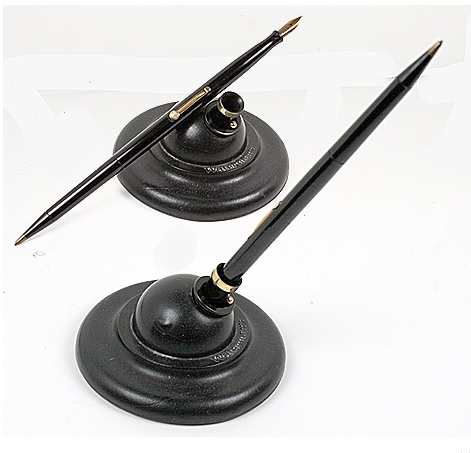 While desk sets aren't particularly portable, they are beneficial in other ways. For example, Sheaffer advertised the user would no longer experience dry ink wells and stubborn pens; the pen itself would be ready for use no matter how infrequently used and always in the same place — the user doesn't have to search through a drawer or briefcase; finally, the pen would immediately writes even though it's sat on your desktop for weeks.
Do you have a favorite desk set? Please share it with us here.