This 1936 #5 Feather-Touch lever-filler Balance set is the beautiful ebonized pearl. The trim is gold-filled, which warmly complements the material of the cap and barrel. The nib is a two-toned, fine. This set is new-old-stock, mint in the original box.

The Feather-Touch nibs were usually two-toned, like this one. Sheaffer claims the plating on the slit-wall could improve ink flow. (See Richard Binder's glossary for more information.)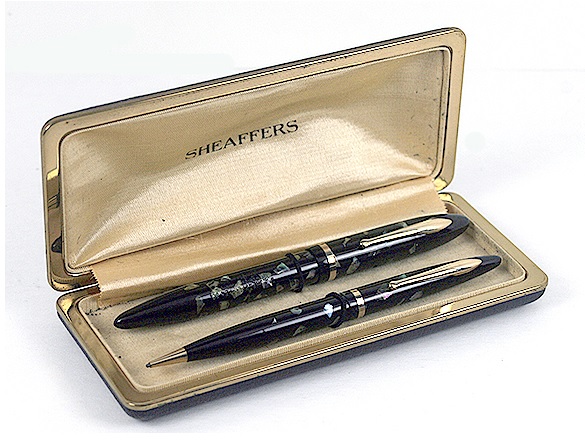 This set is sold, but keep an eye on new catalogs for more Sheaffers!
| | |
| --- | --- |
| 1936 | #5 Feather-Touch LF Balance Set in Ebonized Pearl. GFT. Two-toned, fine nib. New-old-stock. Mint in original box. Close-up of set in box. |