If you sell, lend, or borrow pens, a safe way to ship them to and from owners is using our protective shipping tubes. Several several features make them a better choice over, say, a chunk of PVC pipe!

Twist lock action holds vintage pen securely in position in the tube.
Perfectly transparent so vintage pen can be easily seen.
Infinitely variable length extension to 8 3/4″ through twistlock mechanism.
Hexagon end prevents rolling.
Durable and reusable.
Sturdy; oil and moisture resistant.
Protects vintage pen in shipment from crushing, scratching, etc.
These tubes also make great choices for storage if you wish to put your pen(s) away for awhile. That is, if you don't want to display them. They are also great for glass pens and other fragile pens, as the tubes prevent them from rattling around and chipping.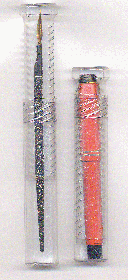 Pricing starts at $1.25USD when ordering between one and nine tubes. Bulk purchases give you more for less. Check out the Shipping Tubes page for more information and to order.