A unique item in Catalog #79 – the Scripto Pussycat Ball Pen Counter Display! This is item 255 in Catalog #79.
A piece from 1966: twelve (12) Scripto "Pussycat Pens" button-activated Ball Pens in plastic with Chrome Trim. This is a point of purchase counter-top display containing 12 Scripto "Pussycat Pens" from 1966 or 1967 in various color combinations, all mint-in-the-box. Scripto was no doubt hooking onto the popularity of the "Pussycat" theme made so popular and hip by the 1965 film, "What's New Pussycat?" along with the Pink Panther movies, cartoons and comics.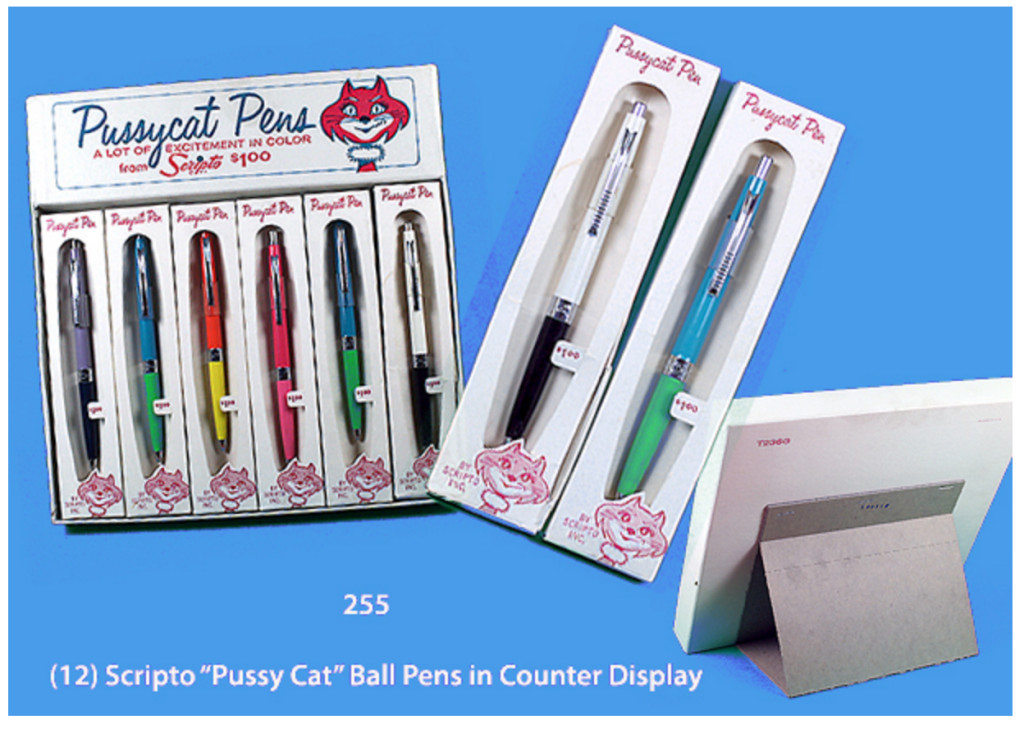 Scripto trademarked (Serial No. 72246375) the term "PUSSYCAT" under the category of "Goods and Services: BALL POINT PENS" on 5/23/66. The trademark expired on 5/28/87, and since then could be used by anyone.
Scripto started in Atlanta, GA as the M. A. Ferst Company in 1923, a major supplier of graphite leads, quickly adding mechanical pencils. In 1924 the name changed to Scripto, Latin for "I write." In 1955 they started selling refillable butane lighters called the "Vu-Lighter". In 1957 they acquired Anja Engineering Corporation, an international writing instrument supplier.
Some other interesting history. In 1964 Scripto faced a major labor strike, in which Dr. Martin Luther King, Jr. and the So. Christian Leadership Conference participated. Scripto's president, James V. Carmichael, negotiated with the International Chemical Workers Union, Local 754, resolving the strike and reaching a settlement.
While we think of Parker's "Liquid Lead" as the introduction of graphite suspended in a liquid, Scripto actually introduced it many months earlier, to Parker's chagrin! Erasable "Fluidlead" was developed by chemist Fran Seech (who escaped to Los Angeles from Nazi-occupied France). Parker and Scripto eventually agreed to share the formula, with Scripto now being able to also call it by Parker's trademark name, "Liquid Lead." Seech was also famous for inventing the first successful ball pen ink in 1949, the formula for which he sold to Patrick Frawley, Jr., who used it in the ballpen he introduced in 1950, the Papermate!
Scripto sold lots of ball pens and had a variety of models, all designed for mass appeal, including Pussycat, Feathertone, Satellite, Prestige, Escort, Action, T210 and others. The Pussycat uses a transparent plastic refill covered by US Patent 2678634. You will probably want to keep this as a collectible, but if you do want to use the pens, I had no trouble using a Fisher metal 1-for-All refill. New-old-stock. Mint.