A stunning line up of Pelikans – many with flexible nibs. If you're searching for a nib that will offer some line variation, look no further. Catalog #75 has a few Pelikans you may want to look at.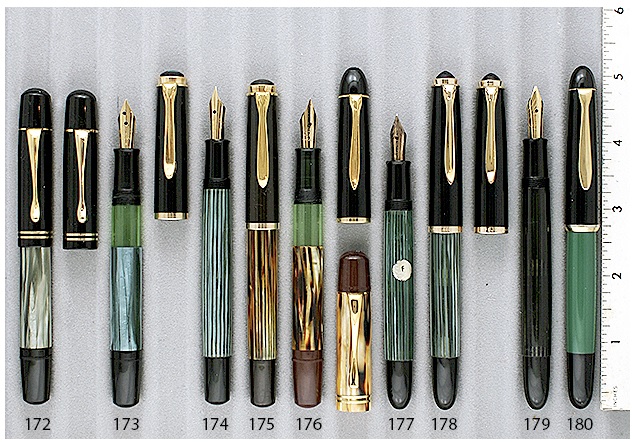 #172 is sold: a 1948 100N in the rare Grey Pearl. This pen had a broad, italic, extra-flexible nib. A marvelous nib!
#173: a 1950 100N in Green Pearl. This is a NOS, mint condition Pelikan with two available: one pen with a medium/broad oblique, extra-flexible, and one pen with a fine, flexible nib. $325.
#174: 1950 400 in Green Stripe, near mint. There are four pens available: two fine, flexible nibs, one medium, flexible nib, and one broad nib. If you're looking for flex, try out the fine or medium flex. Only $200.
#175: Pelikan 1950 400 in Brown Stripe. A beautiful finish, near mint or better. One medium flexible nib available for only $250.
#176: 1953 101N in Tortoise, an absolutely gorgeous piece, with a matching cap and red turning knob and inner cap, and a green acrylic barrel window. One fine, extra-flexible nib available. Extra-flexible! $1300.
#178: 1956 400NN in Green Stripe. Near mint condition or better with four available, to make choosing even more difficult: one medium/broad flexible nib, one broad nib, one fine nib with a little flex, and one broad with a little flex. If you want to sample a flex nib but you're not certain, try the fine or broad with a little flex. Only $200.